Bornprettystore sells nail art, makeup, jewelry, home and garden
Started as an online shop selling only nail art products, and today bornprettystore.com is a brand with more than 10 000 products. Besides makeup and high-quality beauty products, you can buy cell phones and tablets, home décor products, and much more. The prices are affordable and you can always take advantage of the daily deals and special offers.
---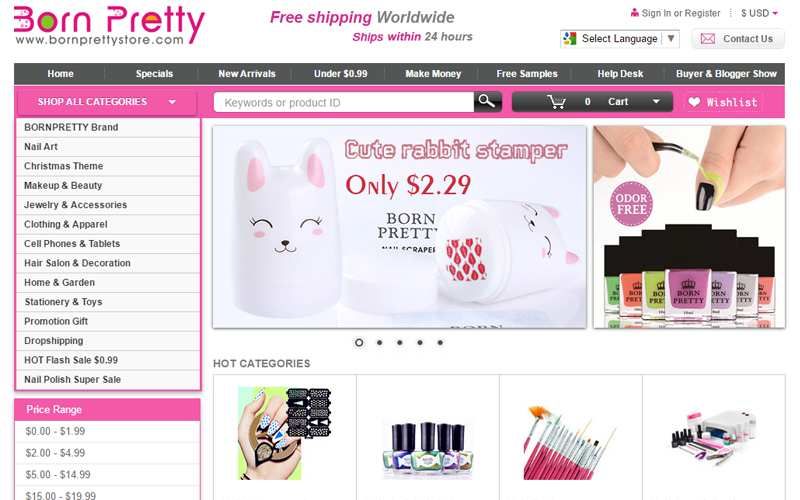 | # | Bornprettystore |
| --- | --- |
| Rating: | 0 reviews Not rated |
| Shipping: | FREE shipping on most products + Paid shipping |
| Payments: | Paypal, Visa, MasterCard |
| Main products: | nail art, makeup, jewelry, home and garden |
| Website: | www.bornprettystore.com |
Bornprettystore reviews
0 reviews

354 reviews

9 reviews

141 reviews
Read about Bornprettystore
Bornprettystore.com is already a brand with more than 10 000 products offering. To register on this website is very easy and more important – free. There is only one simple step, and that is to have a valid e-mail address. Register with your e-mail and you are part of the big family. The buying process is also very simple. After you register, put the products into your shopping cart and choose the quantity. Choose the shipping option and proceed to the payment. You will get an e-mail confirmation that everything is okay with your order. Bornprettystore.com provides excellent customer care service. So, you don't have to worry, you'll have their support always, 24 hours per day. They provide free shipping all around the world. There no limits like price, country or quantity of products. The products are shipped by Singapore airmail. The shipping time is between 7 working days and 20 working days (maximum 45 working days to Brazil and the countries in South America). There is a faster option for shipping, and that is of course DHL, EMS and UPS (if you are using this you need to pay shipping fee) Bornprettystore.com accepts PayPal, MasterCard, Visa, American Express and etc. You can read more about the shipping and payment options at their website. You should know one more information and that is that they offer money back guarantee (30 days). If in some way you are not pleased with the product, you will get full refund after you are going to send the product back.
Other China shopping sites