ChinaBuye sells variety products
Chinabuye.com is one of the largest wholesale Chinese sites that provide a wide range of electronic products such as cell phones, accessories, gadgets, clothing, jewelry, and more. The site attracted the attention by offering extremely discounted prices and some of the most popular brands from the Chinese manufactures – Lenovo, ZTE, Huawei, ZOPO, and etc.
---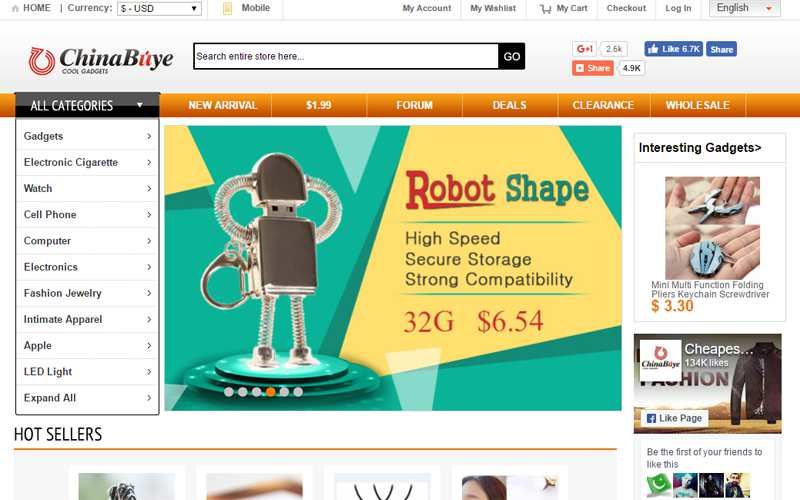 | # | ChinaBuye |
| --- | --- |
| Rating: | 8 reviews Better than most |
| Shipping: | FREE shipping on most products + Paid shipping |
| Payments: | Paypal, Visa, MasterCard, WebMoney, Western Union, American Express, Maestro, Carte Bleue |
| Main products: | Variety products |
| Website: | www.chinabuye.com |
ChinaBuye reviews
8 reviews

100 reviews

1504 reviews
---
Arienne Lacroix

|

5 / 5

12/11/2016 | Wonderful shopping site, I'm living in a hostel. There we are six friends, initially I started shopping from Chinabuy and shared good experience they also started shopping from here, We never encountered any issue till date..I can say their price is really very cheap.
Read about ChinaBuye
Another useful information for the international shoppers is that you can see the website in many languages like English, French, Russian, French, Spanish and etc. If you like shopping, and we suppose you do, you should know that on this website you can add as many product as you like to your shopping cart of course, till you don't clear cache and cookies. People nowadays prefer buying from international sites, and with that in mind, Chinabuye.com has its policies clearly listed on the home page itself. There is also a customer forum on the home page of the website where greater information can be discovered.
One of the biggest wholesale websites that offer a huge range of electronic products is the one and only - ChinaBuye.com. One interesting fact about this company is that they started out in 2006 but they have been able to get one of the biggest number of manufacturing industry in China. That is why they have so many categories of products they are currently offering.
Every shopper on Chinabuye can find different products on the site, properly organized in different sections. In fact, there are many categories and some of them include: gadgets, clothing, watches and jewelry, electronics, and cell phone accessories. Chinabuye.com also are doing very well with Chinese tablet PCs, mobile phones, watches, iPhone accessories or outdoor gadgets. For example, in the mobile phone category you can find some of the most famous brands from Chinese manufacturers such as Lenovo, Alcatel, Huawei, ZTE, ZOPO and etc.
Other China shopping sites