Eforchina sells electronics, tablets, phones, car accessories
Chinese online wholesaler for electronics, cell phones and accessories, tablets, gadgets, car accessories, and more. The website is organized and users have access to product-related information such as features, functions, usability and etc. With integrated and standardized supply chain, eforchina.com delivers thousands of products to buyers from more than 200 countries every day.
---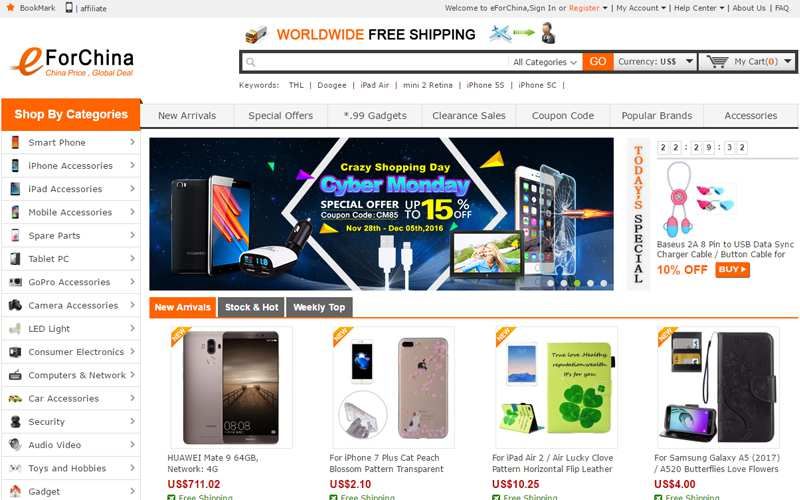 | # | Eforchina |
| --- | --- |
| Rating: | 10 reviews Better than most |
| Shipping: | FREE shipping on most products + Paid shipping |
| Payments: | Paypal, International Bank Transfer, Western Union, Money Gram |
| Main products: | electronics, tablets, phones, car accessories |
| Website: | www.eforchina.com |
Eforchina reviews
10 reviews

21 reviews

23 reviews
---
Nathan Mackinolty

|

5 / 5

20/11/2016 | Everything over the internet is not fake. Many times I didn't receive my order and I lost my hard earned money, all this happened when I ordered from China based store. But I'm so glad to find this store. I have placed 3 orders in 2 months and all of them I received without any issue. This store has good quality products and price is cheaper than other store.
Read about Eforchina
Buying at eforchina.com saves you a lot of time and energy. When you buy at a store in the mall, you need to spend more time and of course money to get to the store. There is no need of that. Now you can make your life much easier and you can just turn on your laptop, click at eforchina.com and you will get all the information about the products and you can choose what you like according to your needs and wishes. Everything that is selling at eforchina.com is with superior quality. There is also quality control who make sure that everything is ok with the product before your ordering and when it has to be delivered to you. You can see all the steps of the working process at their website, just to be sure that everything is going to be just fine with your order. Eforchina.com offers you two shipping methods: via Surface Mail (it is free and the delivery time is between 15 and 25 days) and Expedited Shipping (it is faster, the delivery time is between 2 and 5 business days, but you need to pay an additional fee). Eforchina.com accepts PayPal, Western Union, Money Gram and Wire Transfer.
Other China shopping sites