Yesstyle sells fashion and lifestyle
Established in 2006, yesstyle.com is a global retailer selling an extensive range of fashion and lifestyle products at affordable prices. They bring the latest trends in fashion to customers around the world. All high-quality products are carefully chosen by their dedicated staff. Yesstyle.com offers free standard shipping on orders over $35.
---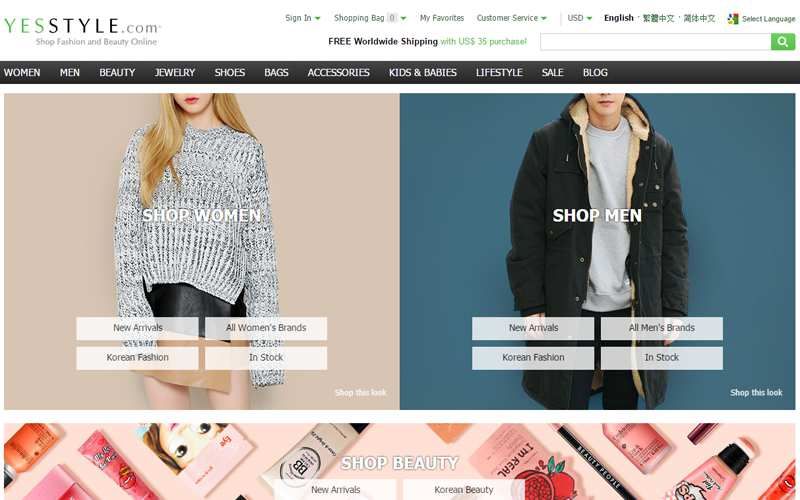 | # | Yesstyle |
| --- | --- |
| Rating: | 0 reviews Not rated |
| Shipping: | FREE shipping on most products + Paid shipping |
| Payments: | Paypal, Visa, MasterCard, American Express, JCB, Alipay.com |
| Main products: | fashion and lifestyle |
| Website: | www.yesstyle.com |
Yesstyle reviews
Read about Yesstyle
As we said, at yesstyle.com the high quality must be at the highest level possible. Other than this, important characteristics are style, selection and service. Style at this company is beyond creative and unique. Every item, every piece of clothing is carefully selected by their professional team. Selection is very important if you want to offer only the best. And when it comes to the service, there aren't words to describe how experienced, dedicated and reliable the customer service is. Without any doubt, you will be in good hands.
Yesstyle.com offers two shipping methods: Premium Standard Shipping and Express Shipping (this is for US only). The Premium Standard Shipping Method is free if your order is more than $35, if it is less than $35 you have to pay shipping cost $3.99. Delivery time is between 5 and 14 working days. The Express Shipping is free if your order is more than $99 (however this option is available for order more than $35 and the shipping cost is $12.99.). If you are from Europe than you have to choose between Standard and Express Shipping. For more information visit their website. Yesstyle.com accepts PayPal and Credit Card.
Other China shopping sites